What is Polyporpolene? Polypropylene (PP) is a thermoplastic "addition polymer" made from the combination of propylene monomers.
The polyproLABS® line of corrosion resistant polypropylene casework and clean storage systems is the best available lab furniture on the market for caustic, critical processing environments.
Entire trace metals analysis laboratories may be specified as having NO EXPOSED METALS, in any of our equipment and furniture. All "hardware" including door hinges, latches, drawer suspension systems, handles and plumbing accessories are made from polypropylene. "Scratch-resistant, corrosion-resistant" polypropylene work surfaces are unique to our line of casework and fume hoods. Epoxy or laminate materials may be selected as options. All workmanship and components are designed and built in accordance with the SEFA standard of construction for the laboratory casework industry.
DESIGN:
All casework has a "flush surface" design and is built in accordance with the standard of construction for the laboratory casework industry.
All base and storage cabinets have an integral base with toe space that is 4" high and 3" deep. This integral base allows each cabinet to be used as a single stand-alone unit or in a group.
All components, including "hardware", are polypropylene or other plastic material. No exposed metals exist within the cabinetry.
MATERIALS DESCRIPTION:
All materials are of the highest quality whether they be raw plastic, sheet, hardware, or in completed product form.
All polypropylene raw sheet materials are inspected prior to fabrication and certified to be free of any visual or structural defects, which would prevent parts from being made to blueprint specifications
MATERIAL GAUGES:
Polypropylene material is available in 1/4″, 3/8″, 1/2″ and 1" thickness. Individual replacement parts including doors, filler panels, drawer bodies and shelves are all available in these thicknesses.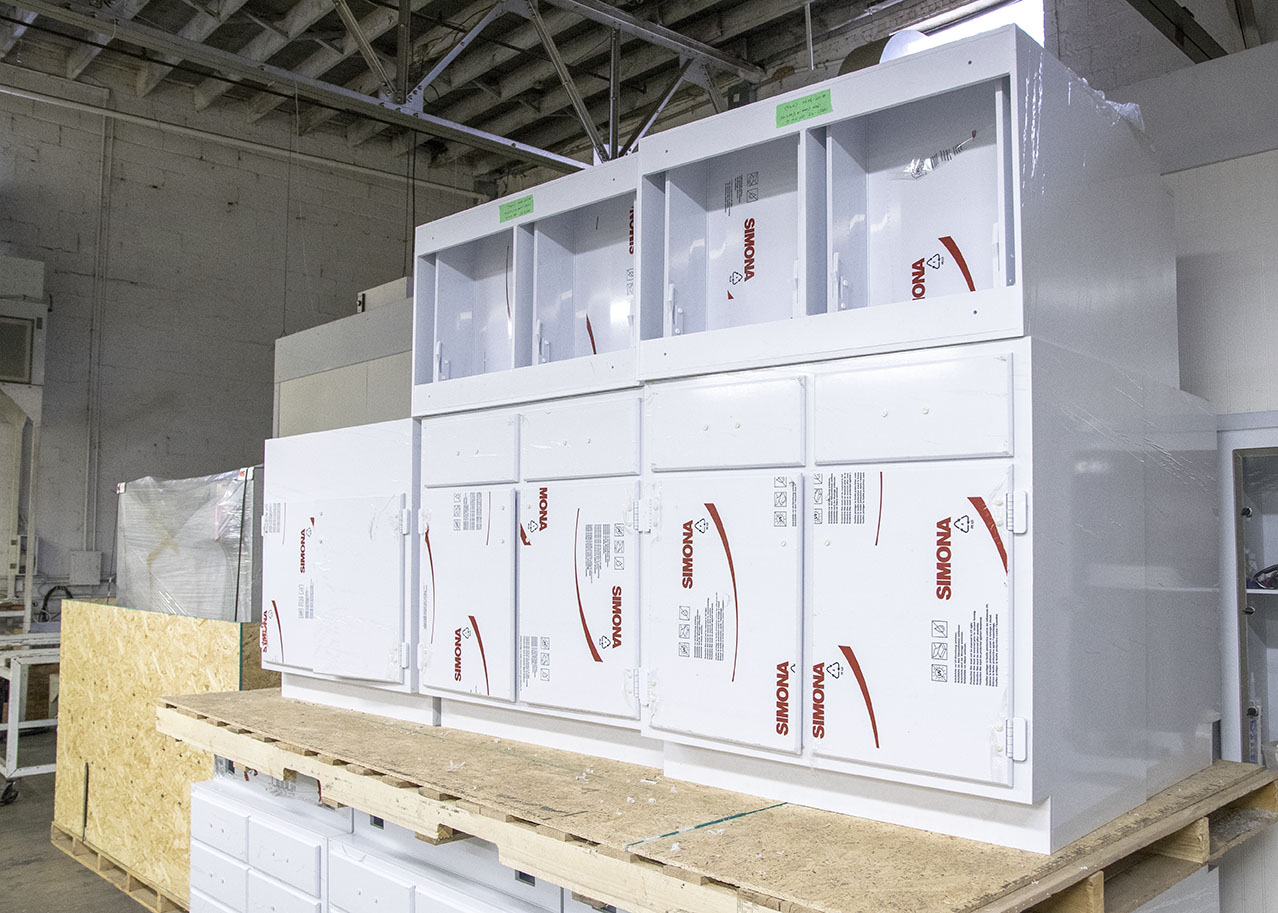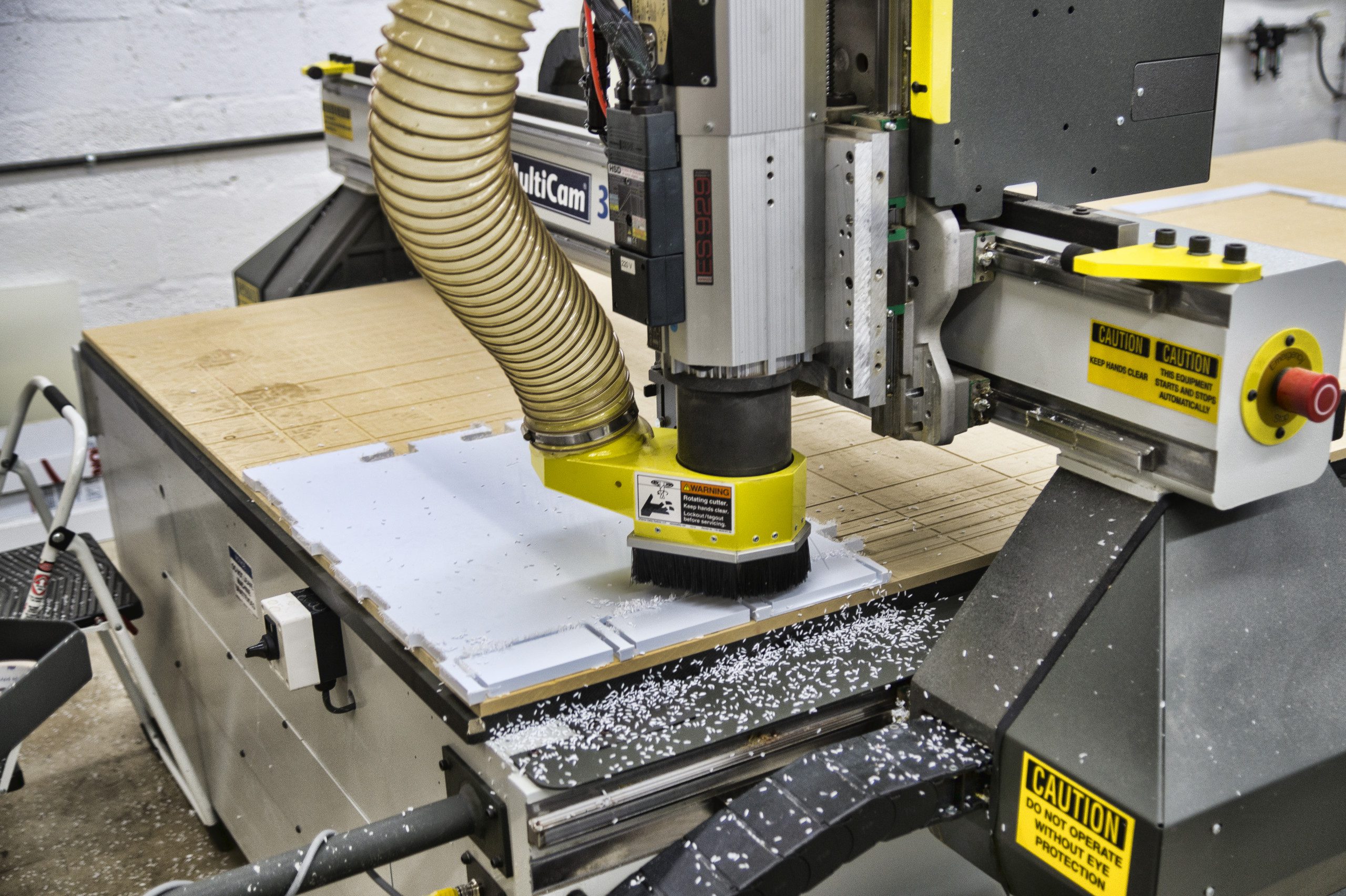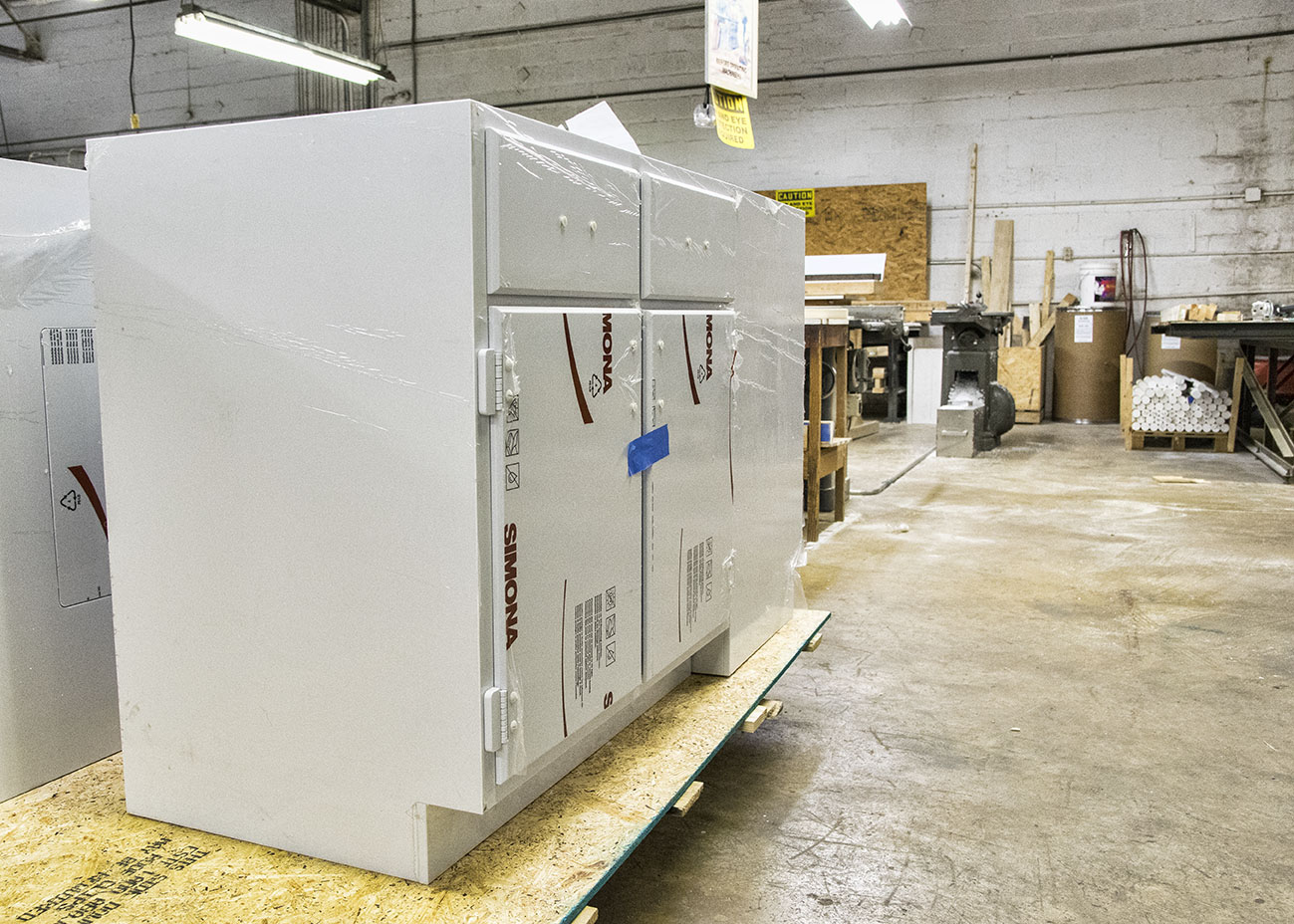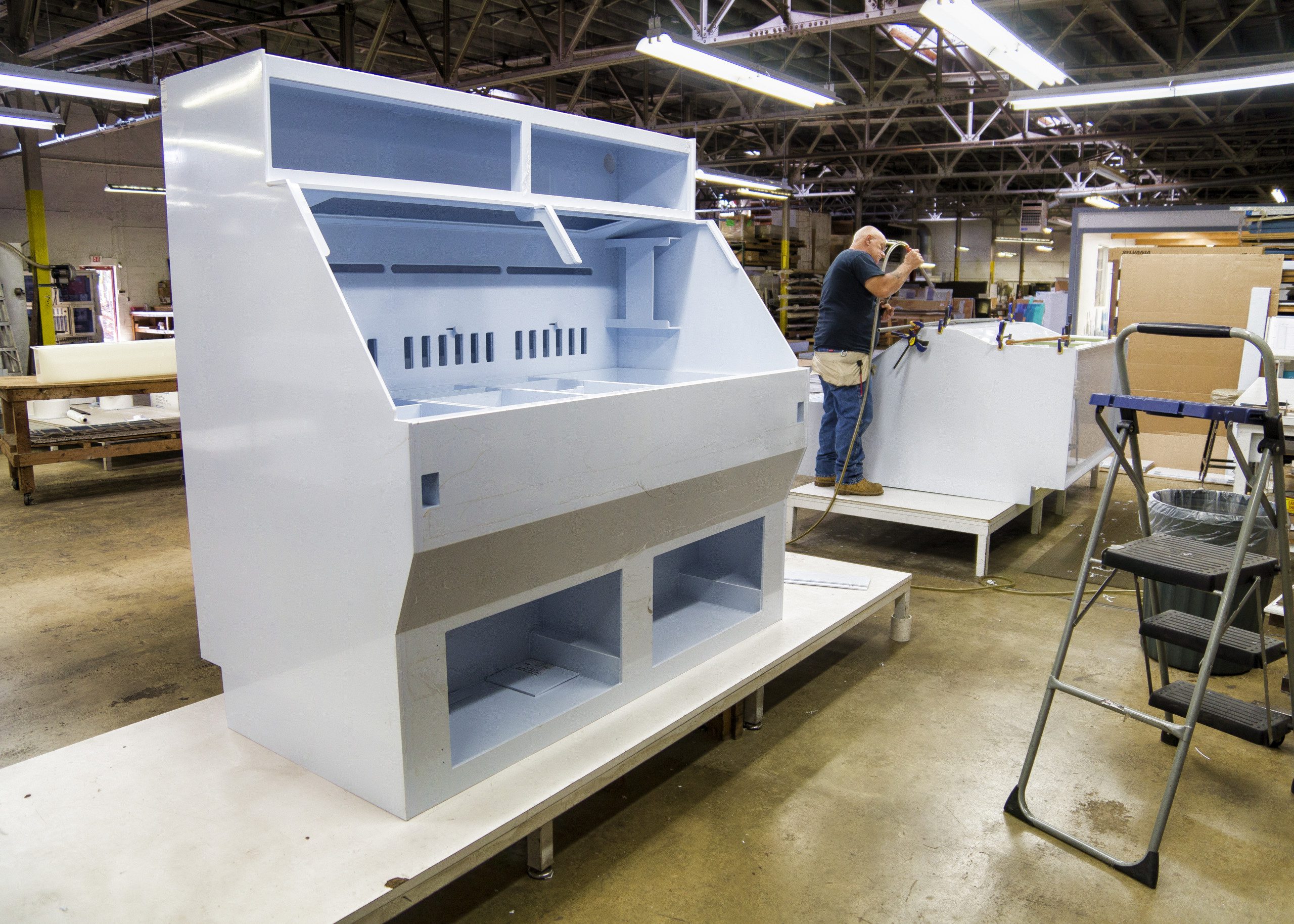 CABINET CONSTRUCTION:
Cabinets: Construction of 100% refrigerator white, stress-relieved, acid-resistant, polypropylene. The cabinet structure is typically built with 1/2″ material. Countertops are welded or screwed to cabinet, typically using 1/2" or 1″ thick material. All joints are thermally welded by special process, which ensures leak-tight, superior strength, flush unions. No metals are used in cabinet. 4″ high x 3″ deep toe space is standard. All polypropylene countertops include a 4" high backsplash, thermally welded to the countertop. Cabinet may be specified with removable rear panel for chase access. Plastic coated levelers may be installed.
Doors: Doors are solid 3/8" thick polypropylene with beveled, smooth edges. Hinges and screws are polypropylene. Door catches are plastic in lieu of metal magnet type. Door handles are available in a variety of plastic configurations and colors. Polypropylene material ensures doors to be strong, rigid and sound dampening.
Drawers: Drawer bodies are all 3/8" polypropylene in construction. The drawer bottom and sides are thermally welded together making a leak-tight compartment. Drawers have built-in draw stops to prevent accidental pulling out. Drawers may be easily removed for cleaning. Drawer handles are plastic and available in several styles and colors.
Drawer Suspension: Drawers slide quietly and evenly on a polypropylene "notched groove" system. System contains no metal. The drawer suspension system is rated to withstand countless cycles at 100 pounds.
Shelves: Shelves are made from solid 1/2″ polypropylene. Shelves are supported by polypropylene structure. Individual shelves may be specified as removable, adjustable and/or perforated.
Fabricated Accessories: All accessories required for specific installations are fabricated and finished to the same material quality standards as the base units they are made to compliment.
Wall Cabinets: Wall cabinets are made of the same quality standards as base units. Materials used are noted above. Hardware and shelf systems are the same as in the base units. All wall cabinets are made with hanger brackets for ease of installation.
Wall Cabinet Glass: Available in framed safety glass, acrylic or PVC
Options: Base units may include full plumbing and electrical services. An array of sinks, tanks, gas petcocks and electrical receptacles may be selected for factory installation within cabinet. Polypropylene may be substituted with PVC, PVDF, polyethylene or stainless steel. Fire retardant polypropylene is also available. Polypropylene is available in white, blue, black, and natural (translucent).
The Microvoid® line has earned over the years its reputation as the quality standard in the field. Air Control craftspeople work with carefully chosen raw materials such as acrylics, PVC, polypropylene, stainless steel, laminates and more, to meet your material requirements.
With an ever-increasing emphasis on the need for reliable, dust-free, sterile environments in a wide range of industries, Air Control's Microvoid® equipment and systems are employed in a wide range of industries. Our units can be found in many industries including semiconductor, electronics, pharmaceutical, opto-electronics, chemical, food processing, medical, and laboratories.